Windkanal-2011-2 Printausgabe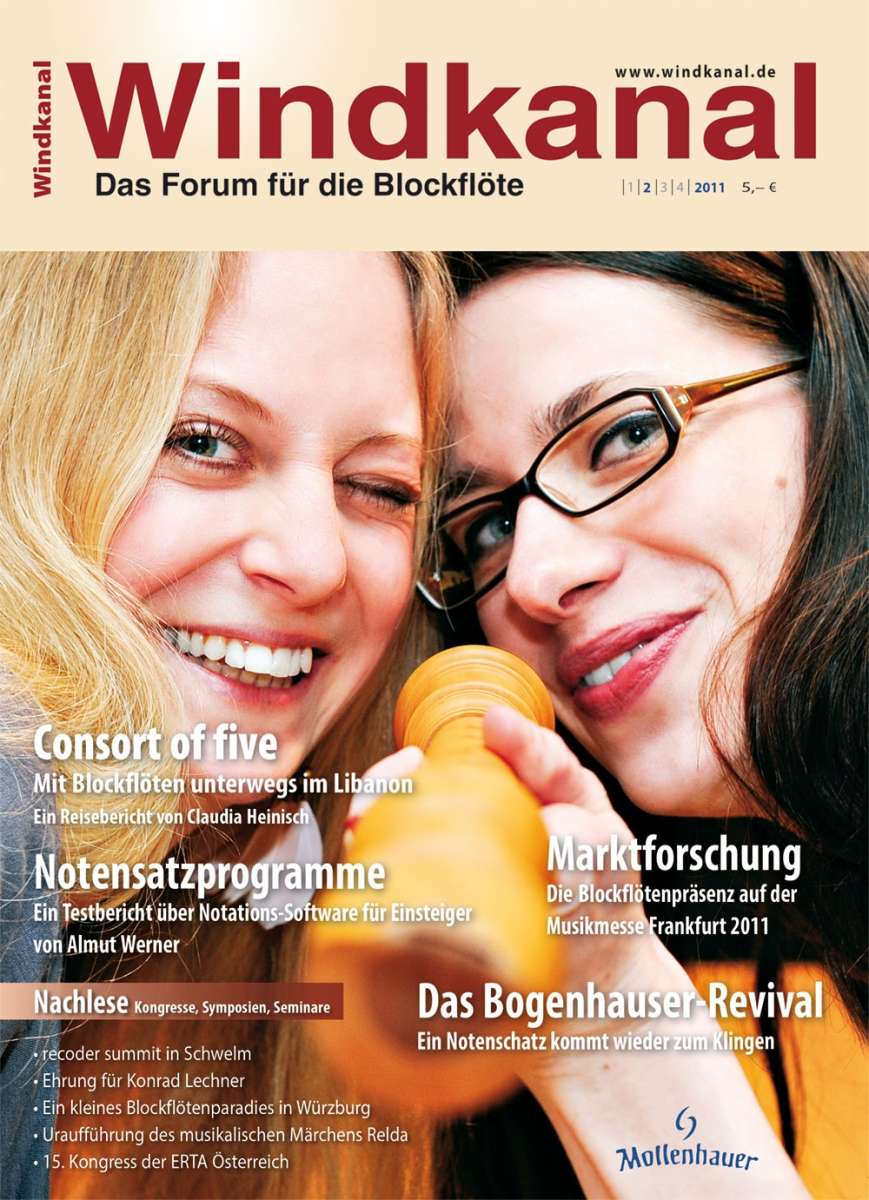 Order number:

6422-11-2

EAN

419483190600920112
Editorial Inhalt Pinnwand Neues & Wissenswertes...
more
Product information "Windkanal-2011-2 Printausgabe"
Editorial
Inhalt
Pinnwand
Neues & Wissenswertes
Consort of five
Mit Blockflöten unterwegs im Libanon
Die arabische Welt ist seit Längerem in den Schlagzeilen. Ist dort aber Platz für unser Instrument? Die Gruppe Consort of five war musikalisch im Libanon unterwegs und begegnete Blockflöteninitiativen sogar vor Ort. Grund genug für diesen ungewöhnlichen Reisebericht von Claudia Heinisch.
Das Bogenhauser-Revival
Gibt es in der Alten Musik noch etwas zu entdecken? Ja, nämlich "neue" Pioniere der Blockflöten-Wiederentdeckung, deren Musik durch ein dankenswertes Projekt nun wieder zum Klingen kommt. Ein Beitrag von Nik Tarasov.
Notensatzprogramme
Ein Testbericht über Notations-Software für Einsteiger
Für KomponistInnen sind sie mittlerweile unerlässlich, aber auch im Musikschulalltag,
im kirchenmusikalischen Bereich, im Musikunterricht an Schulen und in Spielkreisen finden
sie ihren Einsatz. Ein Blockflötenansprüche berücksichtigender Überblick preisgünstiger
Notensatzprogramme von Almut Werner.
Marktforschung
Die Blockflötenpräsenz auf der Musikmesse Frankfurt 2011
Alljährlich trifft sich die musikalische Welt zur größten Fachmesse: der Musikmesse und der prolight + sound in Frankfurt am Main. Wie dort die Blockflöte vertreten ist, untersucht Nik Tarasov.
Nachlese
recorder summit in Schwelm
Ehrung für Konrad Lechner
Ein kleines Blockflötenparadies in Würzburg
Uraufführung des musikalischen Märchens Relda
15. Kongress der ERTA Österreich
Rezensionen
CDs, Noten, Bücher
Termine
Fortbildungsangebote rund um die Blockflöte -
zusammengestellt von Susi Höfner
More Informations about "Windkanal-2011-2 Printausgabe"