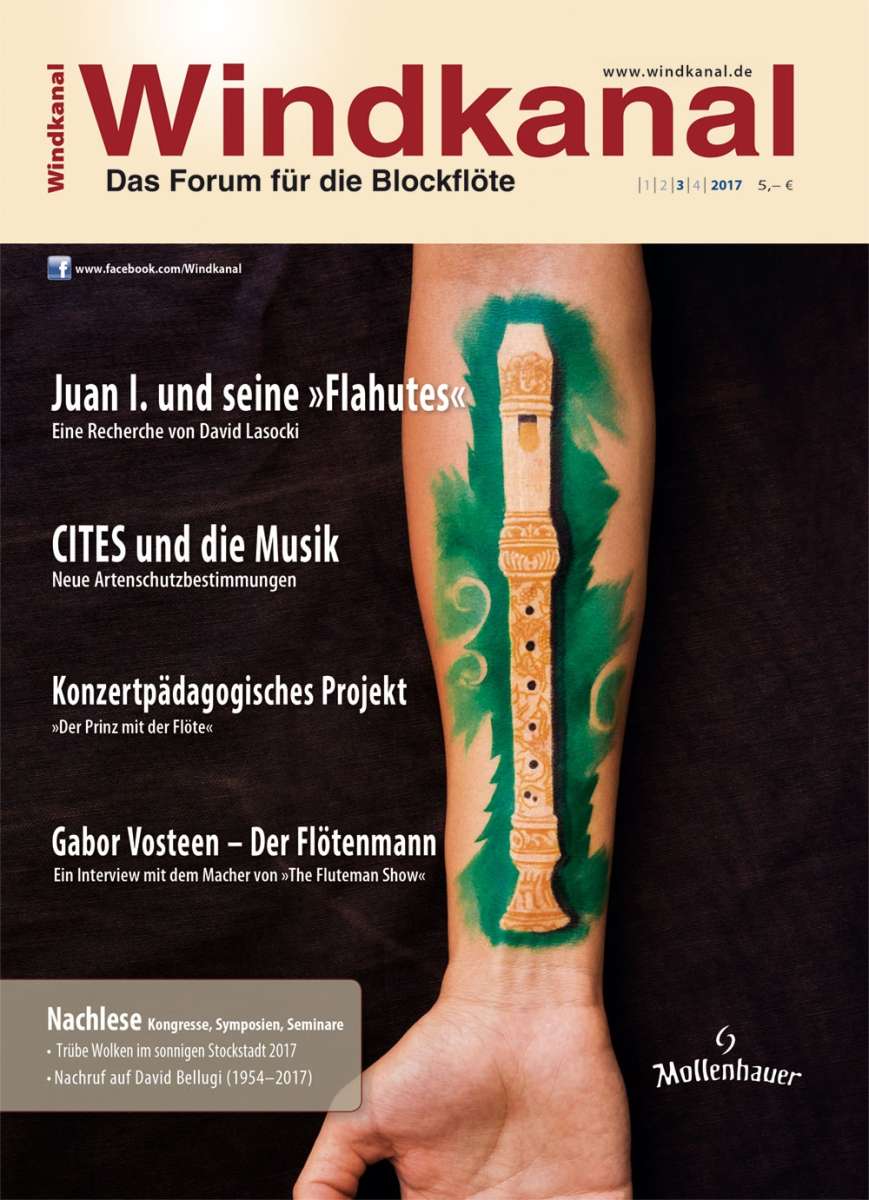 Order number:

6422-17-3-ESD

EAN

4260261323461
Editorial & Impressum Pinnwand Neues & Wissenswertes Juan I....
more
Product information "Windkanal 2017-3 E-Paper"
Editorial & Impressum
Pinnwand
Neues & Wissenswertes
Juan I. und seine »Flahutes«
Was sich tatsächlich im mittelalterlichen Aragon ereignete. Die Anfänge der Blockfl öte im Spätmittelalter sind nach wie vor ungewiss. Jedoch bringt die neueste Forschung David Lasockis etwas Licht ins Dunkel: Der Autor vereint Hinweise verschiedener MusikwissenschaftlerInnen und eigene Erkenntnisse zu einem faszinierendem Bild über die Ursprünge unseres Instruments, sein Repertoire und ihre SpielerInnen.
CITES und die Musik
»Zieht es, oder zieht es noch nicht?«, frotzeln die einen. Andere haben vor CITES deutlich mehr Respekt. Hinter dem Kürzel verbirgt sich die sogenannte »Convention on international Trade in Endangered Species of Wild Flora and Fauna«. Zu Deutsch: »Übereinkommen über den internationalen Handel mit gefährdeten Arten freilebender Tiere und Pfl anzen«. Die globalen Auswirkungen dieses Abkommens - man glaubt es kaum - treffen nun auch verstärkt die Musik. Nik Tarasov versucht, die komplizierte Materie im Bezug auf Musikinstrumente und insbesondere die Blockflöte zu beleuchten.
Konzertpädagogisches Projekt
»Der Prinz mit der Flöte«
Wie klingt ein Baum mit goldenen Früchten? Wie klingen flatternde Schmetterlinge? Wie tönen funkelnde Sterne? Und wie hört sich eisiger Frost an? Ein Musikvermittlungsprojekt in Dresden begab sich mit vier Schulklassen auf die Suche nach Antworten. Die Ergebnisse: ein Konzert, eine Ausstellung, zwei Klangcollagen und viel Berührung und Verzauberung durch französische Barockmusik.
Gabor Vosteen - Der Flötenmann
Da wird schon mal die knallfarbige Plastikflöte durch den Bauch gebohrt, bis sie am Rücken wieder herauskommt. Mit seiner skurrilen Show als »Flötenmann« wurde Gabor Vosteen inzwischen vielfach mit internationalen Preisen ausgezeichnet. Er bespielt europaweit Zirkuszelte, Straßenfestivals, diverse Varieté-Theater wie das GOP, das Schmidt Theater, den Zirkus Roncalli und kooperiert mit Orchestern. Nun ist sein Programm »The Fluteman Show« zu einem abendfüllenden Event ausgeweitet worden.
Dörte Nienstedt war bei der Urauff ührung dabei und führte im Anschluss ein Gespräch mit dem Künstler.
Nachlese
Trübe Wolken im sonnigen Stockstadt 2017
Nachruf auf David Bellugi (1954-2017)
Rezensionen
CDs, Noten, Bücher
Termine
Fortbildungsangebote rund um die Blockflöte - zusammengestellt von Susi Höfner
More Informations about "Windkanal 2017-3 E-Paper"