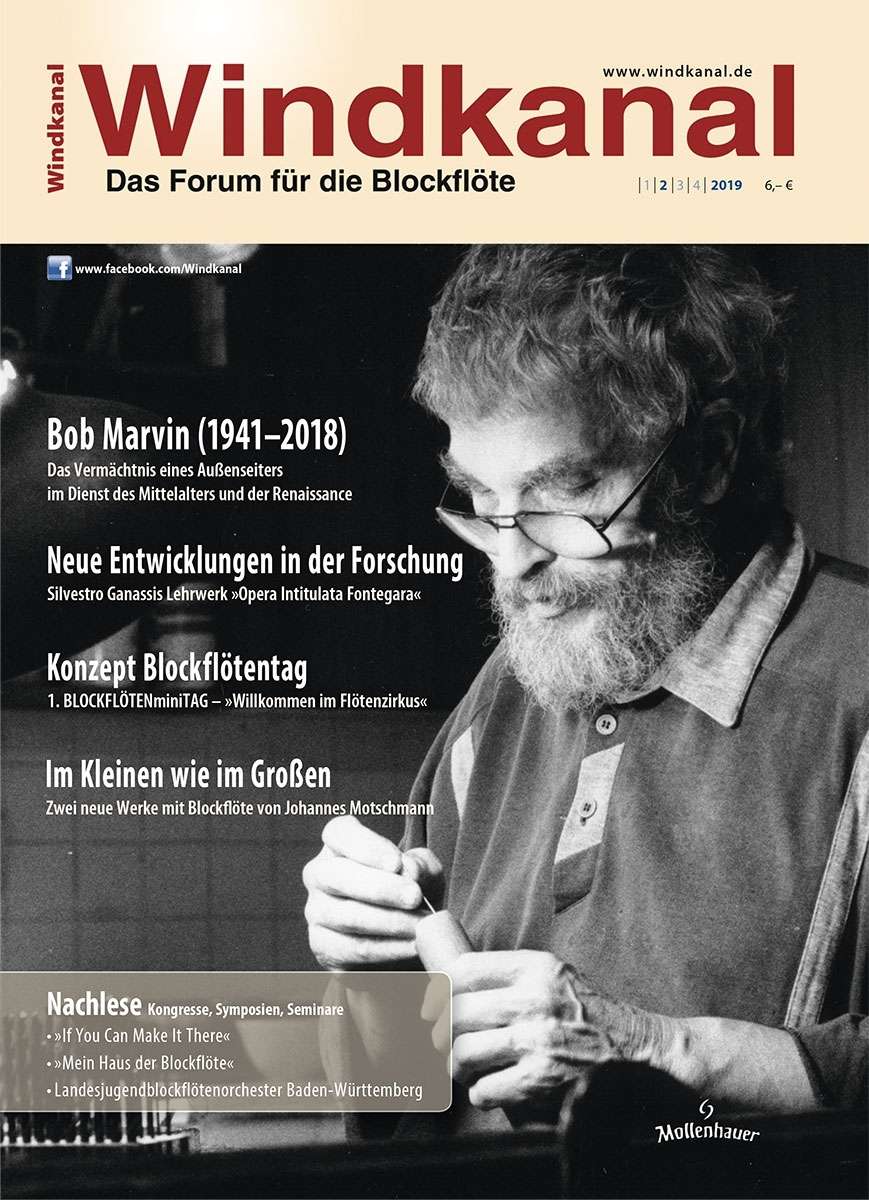 Order number:

6422-19-2-ESD

EAN

4260261323539
Pinnwand Neues & Wissenswertes Bob Marvin (1941-2018) In den...
more
Product information "Windkanal 2019-2 E-Paper"
Pinnwand
Neues & Wissenswertes
Bob Marvin (1941-2018)
In den 1970er-Jahren gelang dem amerikanischen Blockflötenbauer Bob Marvin der Nachbau von Instrumenten für eine sinnvolle Darstellung der Musik des 15. und 16. Jahrhunderts. Nik Tarasov spürt Leben und Werk eines enigmatischen Menschen
nach, der sich über alle Konventionen hinweg in den Dienst der Blockflöte stellte.
Silvestro Ganassis Lehrwerk »Opera Intitulata Fontegara«
»The origins of instrumental diminution in Renaissance Venice: Ganassi's Fontegara«
lautet der englische Originaltitel der brandneuen Doktorarbeit von Dina Titan.
Daraus stellt uns die Autorin zentrale Aspekte ihrer für Blockflöteninteressierte hoch-
interessanten Forschungsarbeit selbst vor.
Konzept Blockflötentag
Immer wieder hatten wir über den burgenländischen Blockflötentag berichtet und uns auch vor Ort davon ein Bild gemacht. Üppigkeit und Erfolg der Veranstaltung sind vorbildlich und setzen viele Ideen um. Daher skizziert Kerstin Zach, Organisationsleiterin der Fachgruppe Blockflöte im Burgenländischen Musikschulwerk das Kooperationsprojekt mit dem Joseph-Haydn-Konservatorium und stellt dabei den sogenannten BLOCKFLÖTENminiTAG als neues Format vor.
Im Kleinen wie im Großen
Der Komponist Johannes Motschmann ist der Blockflöte zugetan und hat u. a. mit dem Stück »Resonance« ein minimalistisches Kleinod, mit dem Werk »Facets of Infinity« ein großbesetztes Orchesterkonzert mit prägnanten Hauptrollen für Blockflöte geschrieben.
Daniel Koschitzki und der Komponist selbst führen in die Musik ein.
Nachlese
Das Boreas Quartett Bremen mit Gastflötist Han Tol an der US-Ostküste
»Mein Haus der Blockflöte« - Ein Erlebnisbericht zum TARF 2019 in Tel Aviv
Probenphase des Landesjugendblockflötenorchesters Baden-Württemberg
Buchbesprechung
Kinderbuch mit Blockflöte in Afrika
Rezensionen
CDs, Noten, Bücher
Termine
Fortbildungsangebote rund um die Blockflöte - zusammengestellt von Susi Höfner.
More Informations about "Windkanal 2019-2 E-Paper"