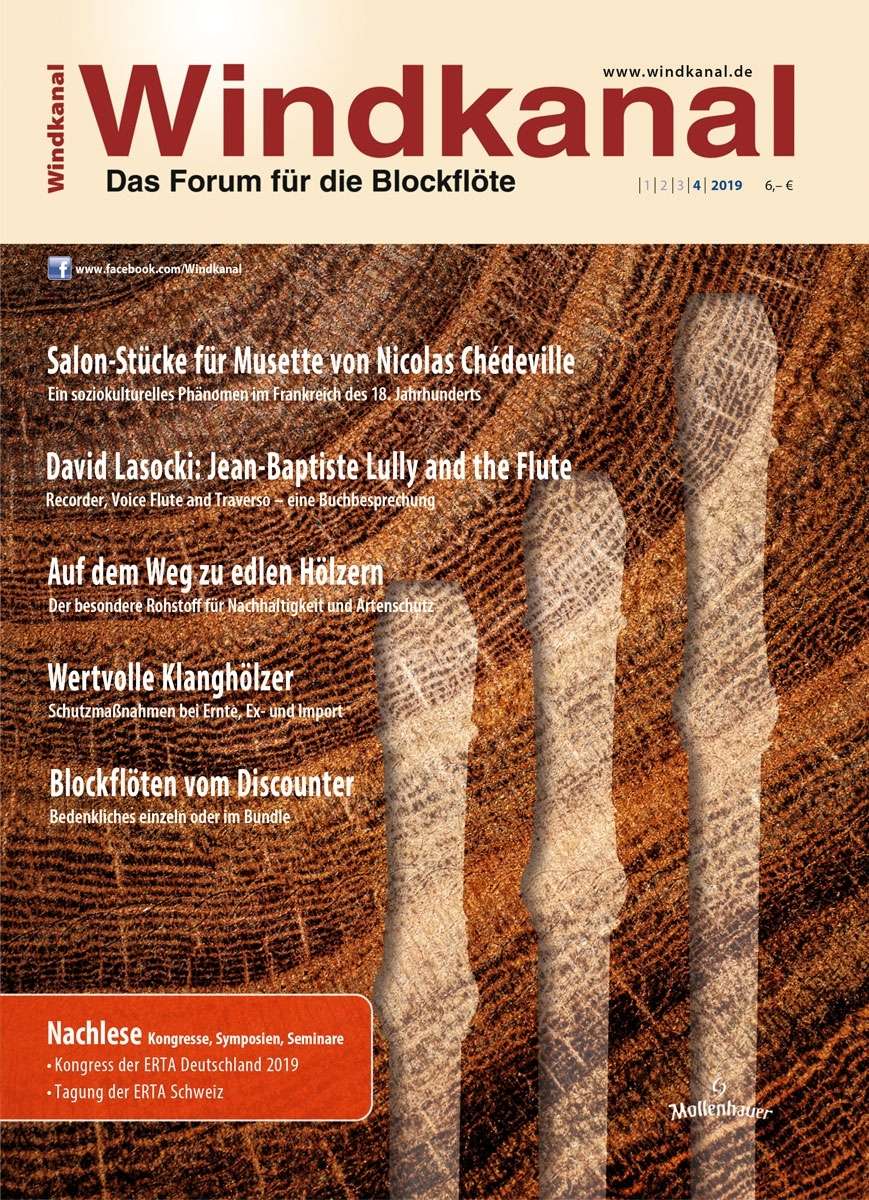 Order number:

6422-19-4-ESD

EAN

4260261323652
Editorial Pinnwand Neues & Wissenswertes ...
more
Product information "Windkanal 2019-4 E-Paper"
Editorial
Pinnwand
Neues & Wissenswertes
Salon-Stücke für Musette
Wer ist mit der Blockflöte beim Spielen hochbarocker Musik aus Frankreich nicht schon öfter über Literatur gestolpert, die eigentlich der Musette zugeeignet war? Robert Picard ergründet beispielhaft, was es mit diesem Instrument auf sich hat.
Ein mysteriöser Fund
Wer weiß etwas, wer kann hier helfen?
David Lasocki: Jean-Baptiste Lully and the Flute
Wann wurde die flûte zur Flauto traverso? David Lasocki untersucht die »Ballets de cour« Jean-Baptiste Lullys. Ein Kompendium zu den Urgründen hochbarocken Musizierens am französischen Hof Ludwigs XIV., kommentiert von Mirjam Schadendorf.
Leserbrief zum Beitrag »Plastik vs. Holz«
Auf dem Weg zu edlen Hölzern
Als Handelsreisender ist Kay-Dietrich Knapp seit über 30 Jahren in Sachen legalem Holzeinkauf und Spezial-Einschnitt von Hölzern für Musikinstrumente in der ganzen Welt unterwegs. Nun erzählt der Mann hinter den Kulissen des Instrumentenbaus von seinen Einsätzen rund um das unvergleichliche Material Holz in all seiner Vielfalt.
Wertvolle Klanghölzer für Blockflöten
Kaum jemand ahnt, was sich heute hinter einem Stück Edelholz verbirgt: Faszinierend ist die inzwischen erreichte, weltweit gesetzlich geregelte Sorgsamkeit um Fortbestand und sinnvolle Nutzung der Ressourcen. Kay-Dietrich Knapp porträtiert den Beschaffungsweg dreier wichtiger Edelholzarten für den Blockflötenbau.
Blockflöten vom Discounter
Es gibt sie nicht im Musikalienfachgeschäft, jedoch jahreszeitenbedingt derzeit in den Regalen mancher Rabatteinzelhändler: Sopranblockflöten einer Kategorie, welche das Anforderungsprofil von Schulinstrumenten unterbieten. Sina Bayer und Beate Temper haben sich zwei derartige Angebote etwas genauer angesehen
Nachlese
Kongress der ERTA Deutschland 2019
Tagung der ERTA Schweiz 2019
Rezensionen
CDs, Noten, Bücher
Termine
Fortbildungsangebote rund um die Blockflöte - zusammengestellt von Susi Höfner.
More Informations about "Windkanal 2019-4 E-Paper"