echo $language_vars["windkanal"]; ?>
echo $language_vars["windkanal_text"]; ?>
echo $language_vars["wissenswert"]; ?>
Helder Evo Tenor recorder in rosewood
Description
Info
The innovative tenor recorder from the family of harmonic recorders is a high-end version for the most demanding standards. Based on the design of Dutch recorder maker Maarten Helder, the instrument was completely reworked in the Mollenhauer workshop in cooperation with recorder player Susanne Fröhlich.
The Helder Evo Tenor offers a number of exceptional benefits:
Extended range from B natural 3 – E7 (ASPN / IPN)
The tones of the instrument's foot-joint are overblowing into their natural partials: This concept stabilizes the harmonic recorder's sound in any register and makes it more flexible – an ideal combination with modern orchestral instruments.
The tuning slide allows a secure intonation within a bigger pitch range.
The Sound-Unit system is the direct access to a flexible sound design in terms of type of sound, sound modulation, attack and dynamics. Many tonal parameters can be regulated either before the playing or altered during the performance.
The Piano or Register Key allows a variable pitch control and may influence the dynamic processes as well as the response of the highest registers positively.
The foot-joint is equipped with a chromatically arranged key mechanism according to highest ergonomic demands: Starting with a semitone extension to low B natural, there are open keys for C and C sharp followed by a closed key for D sharp.
The middle-joint is equipped with alternative keys for F and F sharp plus G sharp.
Several features support a perfectly balanced playing position: the knick head-joint, the vertically and horizontally adjustable special thumb rest and the elastic neck strap.
Wood type:
Rosewood
The Sound-Unit's used materials:
Thermoplastic POM, Synpor, rosewood, stainless steel, rubber inserts and rubber ring
Key mechanism:
7 keys (keys for B natural, C & C sharp, D sharp, combination key for F and F sharp, G-sharp key and the Piano or Register Key). Premium finely crafted key mechanism made of Silicon-Copper (nickel-free), all parts in high-gloss and hard-silver plated.
Thumb rest:
Manufactured from thermoplastic POM and stainless steel
Neck strap:
Elastic cord, synthetic leather, textile material, eye suspension from chromium-plated steel
Fingering:
Baroque (English) orientated fingering with many alternative options. The third and fourth octave is operated by new fingering based on purely overblown harmonics.
Fingering-chart:
More information on fingering etc. is provided on Susanne Fröhlich's blog.
Range:
From B natural 3 – E 7 (ASPN / IPN)
Pitch:
a1 <> 442 Hz at least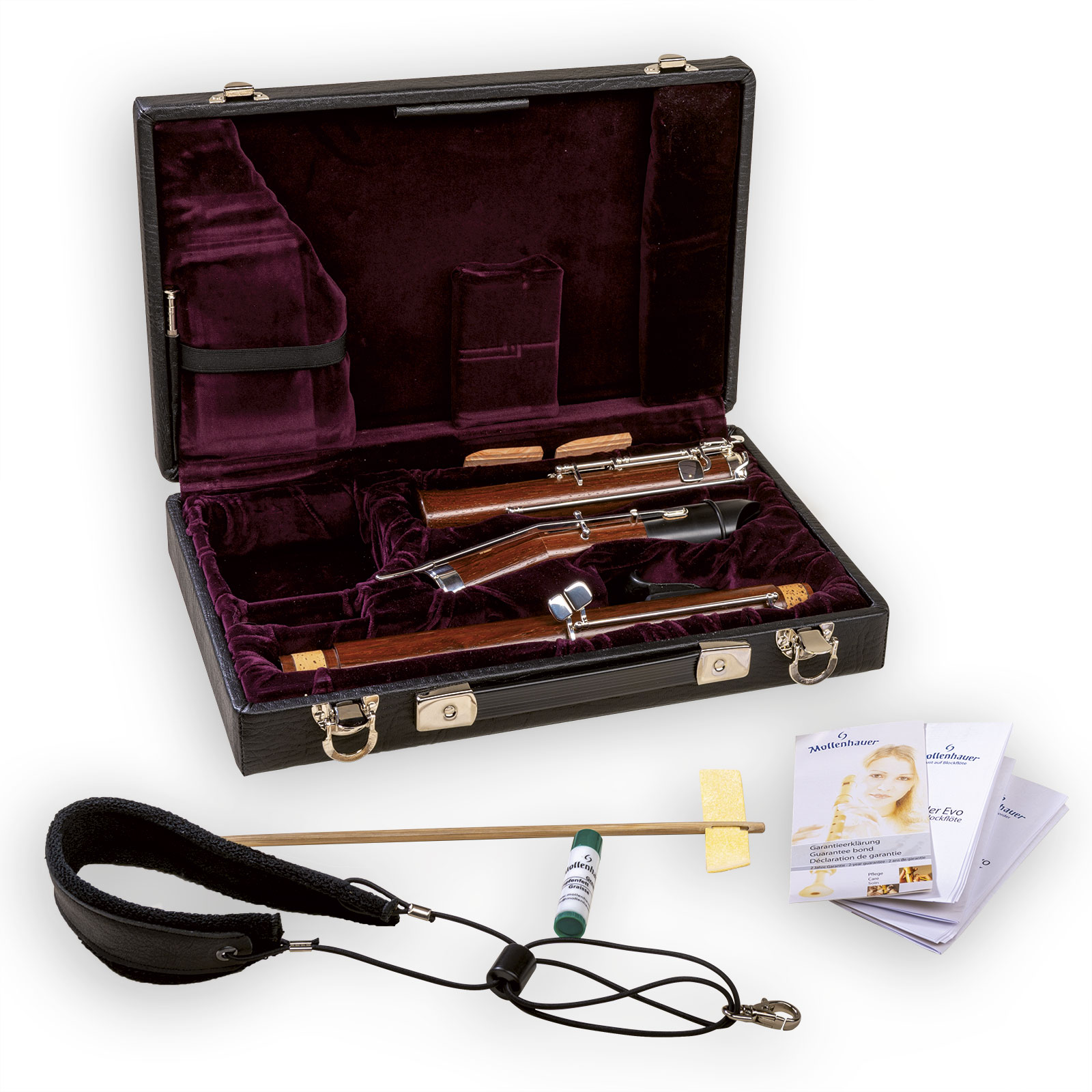 Instrument
2 windway-roof platelets (one in rosewood, two in Synpor)
Case
Thumb rest
Flexible nek strap
Little screwdriver
Cleaning rod wood for tenor
Joint grease stick
Fingering chart
Maintenance instructions
Sound Samples
(playt by Susanne Froehlich)
Solo-Fantasy for Fute No 1 by Georg Philipp Telemann (excerpt/baroque)
Isang Yun – The Visitor of the Idyll (1993) for recorder (excerpt/modern)
Kathrin A. Denner – engrave V (2019) for Helder Tenor (excerpt/modern)
Yoshimine Lullaby (excerpt/modern)
Donjon Elegie – Etude (excerpt/romantik)
Karel van Steenhoven – Just a Song (excerpt/modern)
Mollenhauer
Helder
Recorders/Playing level/Recorders for Masters
https://www.mollenhauer.com/en/catalog/recorders/playing-level/recorders-for-masters/tenor-recorder-helder-rosewood-detail