echo $language_vars["windkanal"]; ?>
echo $language_vars["windkanal_text"]; ?>
echo $language_vars["wissenswert"]; ?>
Modern Soprano recorder with B-foot grenadilla
Description
Harmonic recorders: Mollenhauer & Nik Tarasov/Joachim Paetzold
Scope for discovery: where other sopranos reach their limits this instrument offers scope to venture into new areas of repertoire.
The full round sound refines the high register of the soprano to produce an instrument that combines resonance, sweetness and versatility.
B-foot joint: the modern soprano comes with a Bfoot joint as standard. The resulting longer length of the instrument makes for a more stable and balanced sound across the range.
Harmonic recorders
The collaboration between recorder player Nik Tarasov and maker Joachim Paetzold resulted in 1996 in the development of the Modern Alto. It is the first modern recorder that follows the principle of Harmonic recorders with pure harmonics and a long bore: overblowing the first octave will produce clear in-tune harmonics whereas in traditional recorders the resulting sounds are not in tune and can at best be used as trill or alternative fingerings. Unimportant as it may at first seem, the ability to produce in-tune harmonics has far reaching consequences for the entire instrument – an incredibly strong and powerful low register and a range extending well into the third octave!
Wood type: Grenadilla
Fingering: Baroque with double holes and triple key for C/C sharp/H
Fingering chart: download
Range: h1 – g4
Pitch: a1 = 442 Hz
Block from Synpor-wood composite: This special block provides the instrument with a new musical 'durability': the core of the block consists of an artificial imitation wood product – synpor, that absorbs the moisture of breath condensation without swelling. The synpor core is embedded into a solid, naturally grown, cedar wood shell.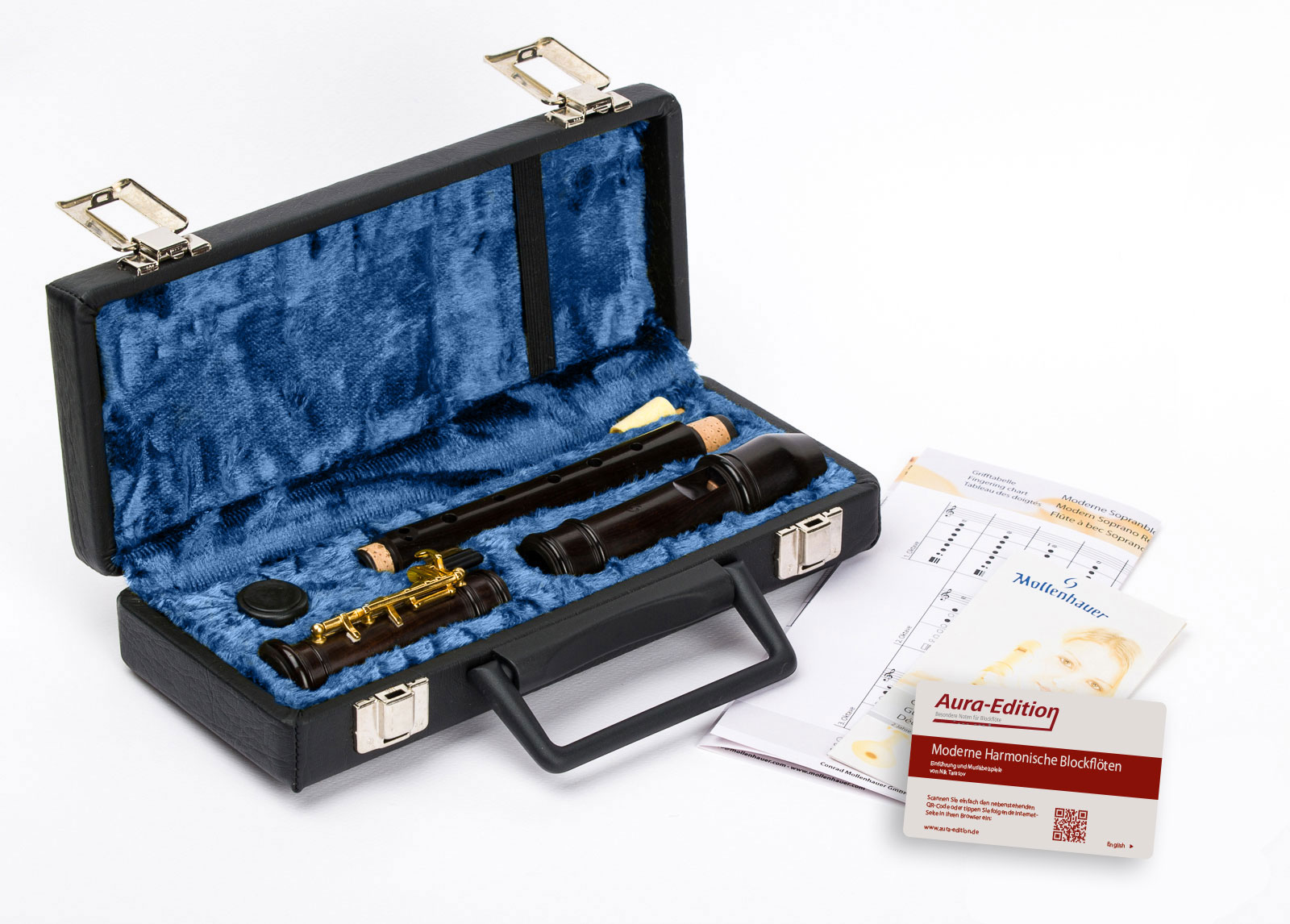 Instrument
Mini-CD
Case
Cleaning rod wood
Joint grease
Recorder oil
Fingering chart
Maintenance instructions
Sound sample 1:
Georg Philipp Telemann (1681–1767)
Sonata a-Moll (1728) Andante

Sound sample 2:
Hans Schmitt (1835–1907) Concertante Etüde Opus 77

Sound sample 3:
James Oswald (1711–1769)
»Leith Wynd« (1742)
Variations on a Scottish folk tune

Mollenhauer
Moderne Sopranblockfloete
Recorders/Series overview/Modern Soprano/Alto
https://www.mollenhauer.com/en/catalog/recorders/series-overview/modern-soprano-alto/modern-soprano-recorder-with-b-foot-grenadilla-detail